Medikin Online Professional - An Easy-To-Use Web-Interface that fits your needs!
(CHECK OUT OUR FREE ONLINE DEMO!)

Individual transcriptionists and small Medical Transcription Service Organizations (MTSOs) or companies with 1-5 transcriptionists handle roughly 25-30% of the total MT business in the United States. Recent research demonstrates that over 80% of this group seeks to implement a web-interface over the next 2 years to increase their productivity and the cost-efficiency for their end-users. Understanding this fact and the needs of Individual MTs and Small MTSOs, Medikin designed a user-friendly, web based, smart application - Medikin Online Professional that gives them enough flexibility through the following features:
Non-Technical and User Friendly application. It's so easy to use!
Complete Pay-as-you-go Web-based medical transcription solution.
No change in the doctor's work behavior as it works with all modes of dictation – Digital Recorder, Toll Free Telephone Dictation Service, In House Dictation System, Safety Net.
Easy integration with your doctor client's existing in house dictation solution (system) eliminating any change in their dictation style.
No change in your or your staff's work behavior (transcription style) as it can be easily integrated with your existing platform. Medikin Online delivers your clients' dictations on and picks up document files from your platform.
No capital investment required (hardware or software installation) on your side or the doctor's side.
Completely Internet based, using any broadband Internet connection.
256 bit SSL secured and redundant platform with total HIPAA compliancy.
Personalized Account login ID and Password authentication for security purposes.
A complete and robust web enabled file routing platform giving you better control over file distribution and management.
Medikin Online Professional is scalable to your needs. As your business grows, Medikin can offer more advanced features specific to your new needs.
Transcribed files can be delivered through a secure web interface or emailed/faxed automatically or on demand. They can also be sent to a hospital's / clinic's in house document management system via HL7 or XML coding.
Audio and document file online archival as per the contractual terms.
Advanced file (EPR-Electronic Patient Record) retrieval module allowing you to search for audio and document files according to various criteria.
Customized and advanced billing module.
E-Signature option allowing transcribed documents to be approved and securely locked by the doctor.
Template upload functionality helps the doctors to send a standard format template to the MT for easy transcription.
Extensive online help documentation along with frequently asked questions is available.
Zero capital investment and the industry's most competitive pricing.
On Medikin Online Professional, you can log into your account with your assigned secure ID and password using any type of Internet connection (56k dialup, Cable, DSL, T1 etc).
You, your staff members (mt/qa) and clients will see a simple 256 bit SSL secured screen highlighting information about the entire account activity depending upon the work scope. Various information about the pending dictation files, new files to be transcribed, transcribed files to be approved, stored templates, highlighted statistical reports, sort functions, online billing, TAT and QA feedback reports can be accessed. Furthermore, should you have any questions, an online help feature is present on each and every page.
We have developed this web-based interface so that you and your staff members can continue working in the same manner as you do now. Medikin Online Professional will take care of getting the audio files to you, adequately informing you about the dictation via e-mail notification, and delivering the transcript back to your doctors. See the Medikin Online Professional FREE DEMO for a first-hand look.
There is no need for your doctor clients to change their way of conducting business because Medikin can capture all audio files dictated through any modes of digital dictation including toll-free number dictation, digital recorders, and PC dictation. It also offers the facilities of document delivery, and an online audio and document archive -- all of which are customized to the doctors' specific needs. So with Medikin Online Professional, you can work as a full-featured MT company giving your clients better service, features and reliability. As your needs grow, you can always upgrade to Medikin Online Enterprise and Medikin Online Elite which will provide you with more advanced features such as a fully-functional workpool, quality editing, co-branding, MT bench, document comparison, MT/QA feedback report, and more.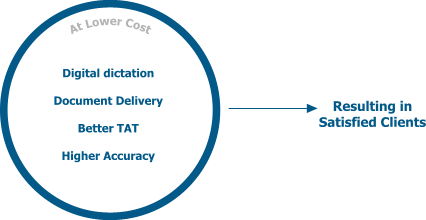 We help you to get dictations and deliver reports digitally at much lower cost than you currently incur, with stronger efficiencies and TAT (Turn-Around-Time).