Medikin Online Enterprise- A Comprehensive End-To-End Technology Platform for MTSOs!
(CHECK OUT OUR FREE ONLINE DEMO!)

Of the more than 8,000 transcription companies in the US, more than 40% still use traditional methods to execute their transcription work. Transcription companies that use Medikin Online Enterprise are able to realize much greater efficiencies in processing their workloads by taking advantage of our Internet-based file routing platform. Medikin Online Enterprise is a robust platform which includes an MT Admin login, enabling an MT company administrator to create and manage MT/QA1/QA2 accounts, set a separate work flow for the doctors as per their individual requirements, change or update the MT/QA1/QA2 account settings, and monitor the entire transcription process online. In order to cater to the specific needs of mid-sized MTSOs with a setup of 6 to 50 MTs, Medikin designed a -user-friendly and smart ASP application with the following features:
Non-Technical and User Friendly application. It's so easy to use!
Complete Pay-as-you-go Web-based medical transcription solution.
No change in the doctor's work behavior as it works with all modes of dictation – Digital Recorder, Toll Free Telephone Dictation Service, In House Dictation System, Safety Net.
Easy integration with your doctor client's existing in house dictation solution (system) eliminating any change in their dictation style.
No change in your or your staff's work behavior (transcription style) as it can be easily integrated with your existing platform (if any). Medikin Online delivers your clients' dictations on and picks up document files from your platform.
No capital investment required (hardware or software installation) on your side or the doctor's side as Medikin maintains all the required servers.
Completely Internet based, using any broadband Internet connection.
256 bit SSL secure and redundant platform with total HIPAA compliancy.
Personalized Account login ID and Password authentication for security purposes.
A complete and robust web enabled file routing platform giving you better control over file distribution and management.
Centralized and individualized doctor logins.
MT Admin login for the MTSO Administrator with full control features giving him the flexibility to create and manage the MT and Editor accounts, and decide the file flow in the system.
Transcribed files can be delivered through a secure web interface or e-mailed/faxed automatically or on demand. They can also be sent to a hospital's / clinic's in house document management system via HL7 or XML coding.
Audio and document file online archival as per the contractual terms.
Advanced file (EPR-Electronic Patient Record) retrieval module allowing you to search for audio and document files according to various criteria.
Customized and advanced billing module.
E-Signature option allowing transcribed documents to be approved and securely locked by the doctor on the system eliminating the possibility of any tampering or deletion of files by anyone.
Template upload functionality helps the doctors to send a standard format template to the MT for easy transcription.
Extensive online help documentation along with frequently asked questions is available.
Full Co-branding/Private-labeling feature of the ASP, thus enabling you to sell our value added services under your company name and logo to your clients.
The industry's most sophisticated web enabled service offering at the industry's most competitive prices!
With Medikin Online Enterprise, you can use any Internet connection (56k dialup, Cable, DSL, T1 etc.) to log in with your secured ID and password. The full platform is based on thin-client technology and is completely web-based, so there is no software installation necessary. Every specific login has its own screen that gives complete information about work assigned/pending, templates, admin reports and online help features. Medikin Online Enterprise takes care of the file transfer (both audio and document) without changing the actual transcription work. See our Free Demo for a first-hand look.
Using Medikin does not require any change either in the doctor's normal dictation practices or in your transcription practices. Medikin Online Enterprise offers all modes of digital dictation facilities including toll-free telephone number dictation, digital recorders, PDAs and pickup from hospital systems; document delivery and online document archive, all customized to your specific needs and branded in your name. Thus with Medikin Online Enterprise, you can work much more efficiently and offer your clients better services, features and reliability.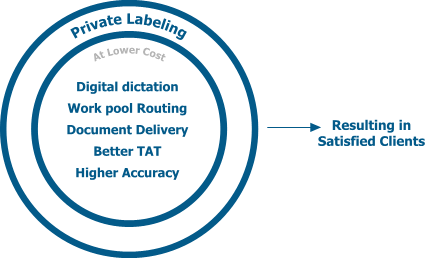 Transcription companies can take advantage of Medikin Online Enterprise's private label feature and have their own brand and logo throughout the system, including the automated e-mails that notify transcriptionists when the audio files are ready. Simply provide the logos and other brand specific information and we will take care of the rest. Your clients and MTs will never know that you are utilizing the services of Medikin Online Enterprise.
Private Labeling features:
Doctors log in to your private-labeled version of Medikin Online Enterprise from your web site. To accomplish this, simply place a link on your web site, which will redirect the user to 256 bit SSL secured screen asking for his login ID and password to enter your private labeled version of the system. If you do not have a web site we can develop and host one for you.
The ASP will be branded with your company logo and trademarks
You can name "your" ASP according to your liking
All email notifications to your clients and MTs carry your company name and logo
The toll-free number service is also transparent
All of your MT's and Editors also login directly from your website
We don't want your transcription business; we only want to make your transcription business easier and more efficient to operate!